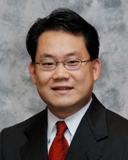 Mission Statement
Our purpose is simple: Clients come first. We pledge to be in constant communication with our clients, keeping them fully informed throughout the entire buying or selling process. We believe that if you're not left with an amazing experience, we haven't done our job. We don't measure success through achievements or awards, but through the satisfaction of our clients.
Who is Matthew Chae?
Matthew was born in Seoul, Korea. At a very young age, his parents moved the family to the US because they wanted the "American dream" for their kids. They moved to northern Virginia where he has lived almost all his life. He is a graduate from the University of Virginia (Wahoo!) and an MBA graduate (marketing) from George Mason University.
He lives in Fairfax with his lovely wife and they are blessed with three children. Matthew's passions, outside of helping people, include spending time with his family and friends, playing board games, and watching movies. However, his greatest passion in life is loving God and serving people. He is also an active member of his church.

How did Matthew get started in real estate?
Prior to real estate, Matthew worked many years for a top management consulting firm, (Booz, Allen, Hamilton). After several years of consulting, he felt he wanted to make a greater difference in people's lives. While in the process of purchasing his first home, he discovered that real estate was a tangible way to do this and, at the same time, incorporate his skills in consulting and analysis.
During their first home purchase, Matthew met real estate agents who were out to "SELL, SELL, SELL" him and quickly move to the next sale – he did not feel they were actually out to help him. They did not understand the market fully or empathize with his needs, and they failed to properly educate him on the home-buying process. After he found and contracted on his future home, his agent barely communicated until settlement. She had already moved onto her next sale. Matthew was left doing much of the coordinating and negotiating with the seller, and even finding his own inspectors, lenders, and other vendors. It was both a confusing and stressful time.

As a former consultant, Matthew was in the business of helping people and he recognized there was a real need in the residential real estate market for someone with his skills. He believed that if home buyers and sellers received true consulting, knowledgeable advice, and help at a personal level, home buying or selling could be an exciting, positive experience instead of a process filled with uncertainty and stress.
It was then that he made a commitment to pursue a business in real estate consulting and sales by gaining a comprehensive understand of the real estate marketplace, the laws, and the processes. Matthew wanted to utilize what he had gained to fully consult his clients in real estate and put his clients' interest ahead of his own. He knew he had to do things honestly, be his best, and treat his clients with respect. His philosophy has worked well, and he truly enjoys getting to know his clients.

Matthew is affiliated with
Keller Williams Realty
. Being the largest real estate firm in North America, their knowledge base, and culture is strong and deep. Matthew recognizes the value of their business model and shares their philosophy.
What is CHAE-care?
With over 40 years in northern Virginia and more than 20 years of sales and consulting experience, Matthew uses his wealth of real estate market knowledge and experience to provide his clients with the best experience possible during a real estate transaction. He understands that home buying or selling is a very big step and works diligently to make sure his clients are taken care of and supported throughout the entire process. His goal is NOT to "sell" his clients but rather to consult and help them with their real estate needs. His goals are the following:
Help YOU reach YOUR real estate goals;

Exceed YOUR expectations throughout this process; and

Ensure YOUR transaction will bring forth future wealth
The foundation of his business is his Commitment to his clients. Nothing is more important than making his clients feel they have been well-served. Matthew also believes in maintaining Honesty and integrity. In any market, he wants his clients to know as much as possible and know the truth. Sometimes clients love what he has to say and sometimes it is not what they want to hear. However, at all times, they know that Matthew has been upfront and honest with them. Matthew believes in the goals stated above and the individual goals set forth in each transaction. He strives to Achieve these goals, and in doing so achieve for his clients. Lastly, Matthew believe in Excellence in all things. He does not want to just do a job for the sake of doing a job but wants to "do it well" and "do it right."
His ultimate goal with each of his clients is for them to walk away knowing their experience was at least a step above what they had anticipated from him or any realtor. In the end, CHAE-care is providing service at a higher standard than what is expected, because for Matthew, serving his clients is more than just a sale. It is his calling and his way of serving God through his work. (Col 3:23-24)

How can Matthew Help YOU Home?
Matthew is committed to helping his clients through the
ENTIRE
home-buying or home-selling process with a comprehensive, progressive strategy. For
Buyers
, he uses his skills to stay on top of the market and locate their dream homes. And, he utilizes the most current real estate technology to share new properties and transaction information in a timely and efficient manner. For
Sellers
, his "EXTREME" marketing plan provides the most extensive market exposure possible by capitalizing on electronic, social media and print advertising at the local, national, and international levels. This ensures his clients ability to sell their homes quickly, for the most money, and with the least amount of stress.
How has Matthew Excelled in Real Estate?
Matthew has been recognized by the Northern Virginia Association of Realtors' Top Producer's Club and Multi-Million Dollar Sales Club for many years (now a Lifetime Member for both) and remains in high standing among his fellow Realtors. Within Keller Williams Realty (Virginia Region), he has been honored with the Realtor of the Year and Rookie of the Year awards for being a good example of their "win-win" philosophy, maintaining honesty and integrity, always acting responsibly, being committed to his clients and "maintaining an all-around professional Keller Williams image" in the Real Estate community.
But more important than labels and awards, Matthew has helped hundreds and hundreds of people home and his client testimonials tell their story…

Past Awards and Achievements
NVAR $10 million+ Top Producer's Club

(Lifetime Member)

NVAR Top Producer's Club

(Lifetime Member)

NVAR Multi-Million Dollar Sales Club

(Lifetime Member)

Keller Williams Realty, Chantilly and Fairfax Market Center, Top Producing Individual
Keller Williams Realty, Virginia Region, Top Producing Individual
Keller Williams Realty, Virginia Region, Realtor of the Year
Keller Williams Realty, Virginia Region, Rookie of the Year
Helping You Home Team
Our team understands that buying or selling a home is more than just a transaction; it's a life-changing experience. That's why our team of highly-seasoned real estate professionals is dedicated to providing exceptional, personalized service for all of our clients. We take great pride in the relationships we build and always work relentlessly on the client's behalf to help them achieve their real estate goals.
Today's buyers and sellers need a trusted resource that can guide them through the complex world of real estate. With our extensive knowledge and commitment to providing only the best and most timely information to our clients, we are your go-to source for real estate industry insight and advice.

Let us Help YOU Home!